Random
Published on Friday, May 3rd, 2013 03:38 pm GMT -4 | by a-mus-ing
0
Jackpot City Casino Mobile Gambling
So recently I've been having an itch to gamble. Yeah I'm perfectly legal but I don't have the time to go to Las Vegas and actually book a five star hotel and visit real casinos. What if I want to use gambling as a way to kill time while going to school or work? Well I've recently looked into mobile gambling and it is fun and addicting as ever! For those who don't know about mobile gambling, mobile gambling refers to gambling through a remote device such as a tablet computer, smartphone or mobile phone with a wireless internet connection. You may ask, Is it actually real money? Of course! One major mobile gambling casino I've recently looked into is JackpotCityCasino.com. What is Jackpot City Casino? With currently over 400 casino-styled gambling games, the history of Jackpot City Casino has been in existent since 1998. Jackpot City Casino can really help you kill your time and lets you get into the mood when you want to gamble. Here are some games that are really enjoyable on Jackpot City.
Lara Croft Tomb Raider
Yes, it is named after the famous Tomb Raider Lara Croft. If you enjoy slot machines then this would entertain you for a long time. Tomb Raider is a 5-reel, 15 pay-line, bonus-round slot machine game. A wild symbol (Tomb Raider logo) is a substitute for other symbols to complete winnings through different combinations.  The game truly draws you forward are the two types of bonus games within the game. Tomb Bonus Round – by bringing 3 or more idol symbols on a pay-line, you can choose idols and reveal and hope for higher bonus amounts. Lara the Scatter Symbol Bonus round – Lara can appear anywhere on the board to activate the game for wheel spins and bonus pay. Tomb Raider is truly an addictive slots game that can get you hooked and wanting to win more from it.  Since Tomb Raider is powered by Microgaming, you undoubtedly have fancy playing options.
European Blackjack Gold Series

My next favourite game would be European Blackjack Gold. This game is designed to simulate the experience of actually playing blackjack in a European casino. European Blackjack reflects the same rules as any other blackjack game where you want to compile a hand that exceeds the dealer without passing 21, or stay under 21 while the dealer "busts". Blackjack is a simple and addicting and you can pick it up very easily. Now imagine how you would feel if you could actually win real money with a mobile app. It is definitely one of the best casino styled games offered by Jackpot City mobile.
Loaded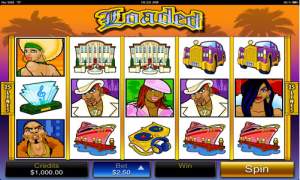 Another slots machine game I would like to mention would be "Loaded". The main theme for this slots is bling, gangsters, hip-hop lifestyle and money. This game is seriously all about money and driven by money because the maximum bet is $500!  Loaded is a 5-reel, 25 pay-line slots game with plenty of multipliers, if you encounter any. The basic jackpot is 7000 coins but, what makes Loaded enticing is that 7000 does not include extra multipliers that you may receive while gambling!
Jackpot City Mobile strives on customer service to ensure a pleasant gambling experience. A unique feature for their mobile app would be the scratch cards that provide thrill by the minute! There are many bonuses given through Jackpot City whenever deposits are made through their casino. A great reason why many people choose Jackpot City is because players can be paid in different currencies such as USD, CAD, EUR, GBP, CHF, AUD and SEK. There are over 20 different payout options that are available to players allowing them to receive an easy transaction. Jackpot City Mobile is easy to access and has great overall experience!